ilike Organic Skinca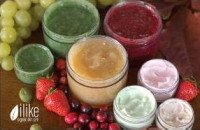 re Moisturizers hydrate and soften skin. Even oily skin needs a light moisturizer to maintain softness and suppleness. Select from a range of ilike Moisturizers created for specific skin types and conditions.

Whip Moisturizers have fruit and herbal extracts with an acidic pH maintaining the acidic environment in which herbal ingredients can be activated effectively. These fine, light creams require only a small amount for use on specific conditions or for the maintenance of flawless skin.
Rich Moisturizers are created with very high herbal oil content for the treatment of dry skin condition.
* Herbal ingredients grown in certified organic fields
* Harvested by hand to ensure delicate plant structures are not damaged
* Fruits, vegetables, and herbs converted into pulps to retain the full concentration and power from the plants.
* Cold processed to maintain the effectiveness of the ingredients
* Infused with subterranean thermal spring water rich in minerals for healing dry skin.