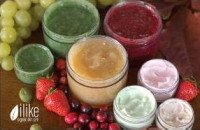 Using an ilike Organic facial mask once or twice per week will dramatically increase the elasticity and health of your skin.
They are made from organically grown fruits and vegetables and contain exceptionally high amounts of concentrated vitamins and nutrient rich ingredients. The ilike Organic facial mask can be used to control dryness, oiliness, acne, rosacea or other special skin conditions.
* Herbal ingredients grown in certified organic fields
* Harvested by hand to ensure delicate plant structures are not damaged
* Fruits, vegetables, and herbs converted into pulps to retain the full concentration and power from the plants.
* Cold processed to maintain the effectiveness of the ingredients
* Infused with subterranean thermal spring water rich in minerals for healing dry skin.