Posted by Linda Hong on 18th Apr 2015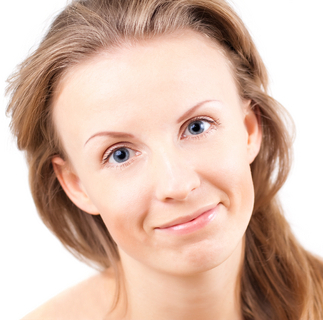 DO YOU HAVE SENSITIVE SKIN?
There's no one cause for sensitive skin. It is usually a combination of genetics, environmental stressors, skin products and even food allergies. But here are FIVE TIPS to help your skin weather its day-to-day challenges:

1. WATER, WATER, WATER Simply put, drink plenty of water. Well-hydrated skin is not only healthy skin but skin that heals faster. Use a peptide moisturizer by day and a rich night cream at night.
Product Picks We♥ Theraderma Collagen Elastin Cream – A nourishing treatment day cream with a vitamin and protein-based formula. Soothes and softens the skin.
Theraderma Bio Effective Cream - It's the most popular product in our entire line because it repairs your skin while you sleep. This ultra-rich (non-greasy) formula is designed to replenish moisture lost during the day. Very rich in vitamins A, B, C, D3 & E, multi-peptides, exotic butters, Aloe Vera gel and proteins.
2. SUN PROTECTION Avoid the sun, especially if you have a sensitivity-related skin condition like rosacea. When you do go out, be sure to protect your skin every day with an SPF of at least 30.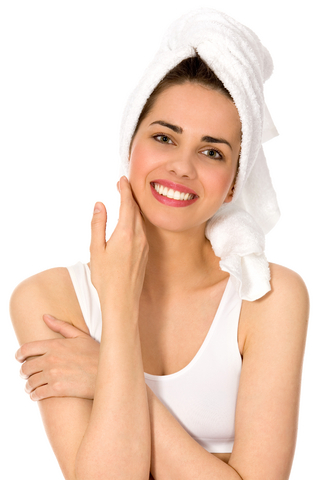 Product Picks We♥ Theraderma Sun Protection Cream SPF30 – Moisturize and Protect your skin with one cream. Contains sun filters for protection against UVA and UVB rays, SPF 30. Cocoa Butter and Glycerin help to protect the skin's moisture balance. Green Tea Extract, Allantoin and Aloe Vera provide soothing and healing properties.
Solar Protection Formula Tizo3 SPF 40 - Elegant and silky, leave a soft matte finish. Water and sweat resistant, up to 80 minutes. No chemical sunscreen filters. Contains Titanium Dioxide and Zinc Oxide.
3. AVOID ARTIFICIAL OR SYNTHETIC INGREDIENTS If your skin becomes irritated or inflamed, check the ingredients and as a rule, stay away from fragrances and preservatives.
Product Picks We♥ ENSPRI Ultra Collagen Mask – A facial mask treatment combines 100% ultra-fine marine collagen mixed with vitamins and antioxidants for very moisturizing, lifting, smoothing benefits.
Theraderma Line Preventing Serum – Jump start your dull, aging skin with this silky hydrating formula. Your skin will feel firm and smooth with an increase in the cell renewal and uptake of oxygen to each cell.
4. ONE STEP AT A TIME When you do choose a new product, take it slow and let your skin adjust. This is especially true for products known to cause irritation and sensitivity like retinol and glycolic acid.
Product Picks We
♥ Osmosis Calm - This level 2 vitamin A serum (.05% Retinaldehyde, a form of vitamin A) is a powerful anti aging treatment. Formulated to address sensitive skin conditions: rosacea, acne and dryness. Restores your skin's moisture barrier by calming inflammation, normalizing oil, and hydrating cells.
Theraderma HA+Collagen Serum – This highly concentrated anti-aging, moisture binding and skin repairing facial treatment contains a substantial amount of pure marine collagen, wheat placenta, multi-peptides and HA – Hyaluronatic Acid. The HA provides continuous moisture to the skin by binding up to 1000 times its weight in water.
5. STRENGTHEN YOUR SKIN'S PROTECTIVE BARRIER Your skin protects you, so try to avoid strong soaps or cleansers that have stripping acids and alcohols that diminish the barrier function of the skin. When the barrier is compromised, your already sensitive skin is more vulnerable to irritation and other reactions.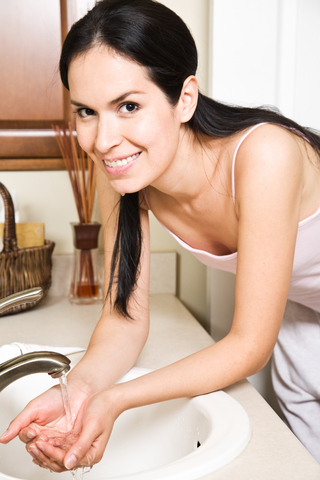 Product Picks We♥
ilike Organic Ultra Sensitive System Cleansing Milk – A gentle and essential oil free cleansing milk for sensitive and hypoallergenic skin that removes makeup and impurities while leaving the skin silky soft. Dermatologist tested on the most sensitive, hypoallergenic skin.
Theraderma Aloe Cucumber Astringent Toner - Alcohol free calming astringent toner tightens pores, smooth the appearance of the skin, and gives it a finer, softer texture. Penetrates deep into the pores to remove any residue cleanser or make up. Herbal extracts and soothing Aloe calm possible irritations for dry and sensitive skin.
Think of your skin as an expensive, delicate, cashmere sweater. Treat it gently, with tender loving care, and it will look beautiful for decades!!