Posted by by Linda Hong, Skincare Specialist on 21st May 2015
BEAUTY ~ and that means SKIN CARE ~ DOESN'T STOP AT YOUR CHIN!!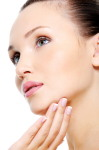 Along with your face, your Neck and Dècolletè are front and center when people look at you.
And yet how many of us shortchange them in our daily skincare routine?
Heed this word of advice: DON'T..... Aging is 20% genetics and 80% skin care habits, so get started now:
3 TIPS FOR A BEAUTIFUL NECK & DÈCOLLETÈ
DAILY CARE
The neck and chest are large areas, but please don't be stingy with your products in order to economize. These areas are thirsty for moisture, so be generous both in the morning and at night and you will see the difference. Whether using cleanser, serum, or day and night creams: share the wealth for a more beautiful and youthful skin.
Product Picks:
We ♥ Theraderma Under Eye & Neck Cream - A revitalizing and fortifying treatment for the fragile tissues around the eyes and on the neck. Infusion of Vitamins A, B, C, D3, E, F and H, with super-refined oils and active herbal extracts helps to delay the appearance of expression lines and wrinkles. An excellent nourishing treatment for the around the lip area.
We ♥ Osmosis Quench Plus + Hydrating Plumper - Formulated with a higher concentration of Hyaluronic Acid to not only hydrate the skin but also to plump the skin. Reduces fine lines and wrinkles while firming and evening your skin tone. The delicate scent of white grapefruit and bergamot will lift your senses. This anti-aging hydrator is perfect for under your mineral makeup to leave you with not only a photo finish but a silky feel. Ideal for all skin types.
SUN PROTECTION
Every time you plan to go outdoors, apply sunscreen to these areas (and all exposed areas) 20 to 30 minutes before leaving the house. Be sure to look for sunscreen that provides broad-spectrum protection, meaning it shields the skin from both UVA and UVB rays.
Product Picks:
We ♥ Solar Protection Formula Tizo3 SPF 40 Water Resistant - Ideal for all skin types even sensitive skin. The tinted formulation matches all skin tones. Customers like to wear TiZo3 SPF40 for not only the sun protection but for a light makeup foundation from the tinted formula. The color of the tint blends well on all skin tones. Very light in texture. Elegant and silky, leave a soft matte finish. Water and sweat resistant, up to 80 minutes.
We ♥ Theraderma Sun Protection Cream SPF 30 - Moisturize and Protect your skin with one cream. Contains sun filters for protection against UVA and UVB rays, SPF 30. Cocoa Butter and Glycerin help to protect the skin's moisture balance. Green Tea Extract, Allantoin and Aloe Vera provide soothing and healing properties.
DAMAGE CONTROL
If you're already noticing sun damage or aging skin, there are many treatment options. Alpha hydroxy acids, particularly glycolic acid, are ideal for helping damaged skin because of their exfoliating properties.
Product Picks:
We ♥ Theraderma Glycolic Acid Gel X50 - Smooth your skin texture and keep pores clean with this oil-free aloe vera gel with Glycolic Acid (15%) and Sodium Glycolate. It removes surface dead skin cells to reduce oiliness, refines skin texture and improves the moisture level of your skin.
We ♥ Volcanic Origins Face & Body Ash Mineral Clay Mud Mask-The "pulling action" of this super absorbent mask is like a "workout" for your face and body, giving your complexion a firmer, smoother, more "fit" look and diminishing cellulite, stretch marks, loose skin, discolorations, acne, and large pores. Helps in the treatment of psoriasis, eczema, and muscle and joint pains. Volcanic Origins uses only 100% natural ingredients free of all artificial colors, parabens, perfumes, and preservatives. IMMEDIATE as well as cumulative results
So remember: give your neck and décolleté the same loving, regular care that you give your face and see more beautiful, healthy skin on these usually neglected areas.