AminoGenesis LashGenesis - .20 oz./6 mL.
WHO'S IT FOR? All skin types.
WHAT DOES IT DO? Enhancement formula for natural longer, stronger, fuller lashes.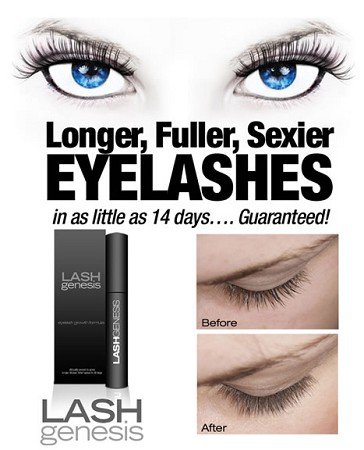 How does LashGenesis work? Your eyelashes are "manufactured" in the tiny hair follicles on your eyelids. Eyelashes are made mostly of various protein (like keratin) and water. These proteins are made of tiny building blocks known as amino acids. LashGenesis uses the exact and optimal combination of these natural building blocks to enhance longer and stronger eyelashes. Just like adding nutrients or fertilizer to your plants at home, LashGenesis uses natural eyelash "fertilizers" to achieve dramatic results.
Are there any side effects? No! Many prescription and over the counter eye lash products use very harsh, "drug like" ingredients that in some cases cause discoloration (known as tattooing) to the eye lid or the whites of the eyes. LashGenesis is different, the gentle ingredients are the same nutrients your eyelashes are made of. LashGenesis simply supplies more of them to enhance your eyelashes for more length! Please Note: any product that is used around the eyes can easily get directly into the eyes. Try to avoid this, and if any irritation does occur when using LashGenesis, discontinue and consult your physician
How soon will I see results? One of the most amazing aspects about LashGenesis is how quickly it works. In clinical studies performed in a physicians office, photographic evidence showed remarkable increase in eyelash length, thickness and density in as little as 14 days. However, the most dramatic results occur when LashGenesis is used twice daily on an ongoing regular basis.
Can I use LashGenesis with other eyelash growth products? While it is ok to apply make-up or eyeliner after LashGenesis has completely absorbed, we do not recommend you use other eyelash growth products in conjunction with LashGenesis. Other products may interfere with the effectiveness of LashGenesis or cause undesirable results or irritation.
HOW TO USE: Apply twice daily to the base of the eyelashes with applicator brush provided. Avoid direct contact with eyes. Rinse brush with hot water and dry before replacing into product tube. Lash Genesis is an eyelash enhancing product; Not intended to prevent, cure, or reduce hair loss or to promote the growth of hair.

INGREDIENTS: Water, Glycerin, Pisum Sativum (Pea) Extract (&) Glucosamine HCL, Hydrolyzed Lupine Protein, Palmitoyl Dipeptide-5 Diaminobutyloyl Hydroxythreonine & Palmitoyl Dipeptide-6 Diaminohydroxybutyrate, Phenoxyethanol (&) Ethylhexylglycerin, Butylene Glycol (&) Carbomer (&) Polysorbate-20 (&) Palmitoyl Oligopeptide (&) Palmitoyl Tetrapeptide-3, Hydroxyethyl Cellulose, Xylitylglucoside Anhyroxylitol Xylitol, Alanine, Proline, Glycine, Magnesium Ascorbyl Phosphate, Tetrahexyldecyl Ascorbate, Tocopherol, Panthenol, Helianthus Annuus (Sunflower) Seed Oil (&) Lupinus Albus Seed Extract, Acetyl Hexapeptide-3, Soy Amino Acid, Disodium EDTA, Triethnolamine.
ABOUT AminoGenesis: Using amino acids, AminoGenesis is able to create healthier, more beautiful and younger-looking skin. Amino acids are the organic compounds that make life possible. Every living thing - plants, animals and humans - is made up of the exact same amino acids. What makes humans different from a dog or a daisy is simply how these compounds are arranged. Building upon this basic fact, AminoGenesis began. Realizing that youthful skin traits, such as elasticity, firmness and even tone, are essentially derived from amino acids, AminoGenesis set off to create effective products that would diminish visible signs of aging, heal damage, and protect the newly revived complexion.